To comply with my non-disclosure agreement, I have omitted some information from this case study. Feel free to

contact me

if you'd like to learn more about this project.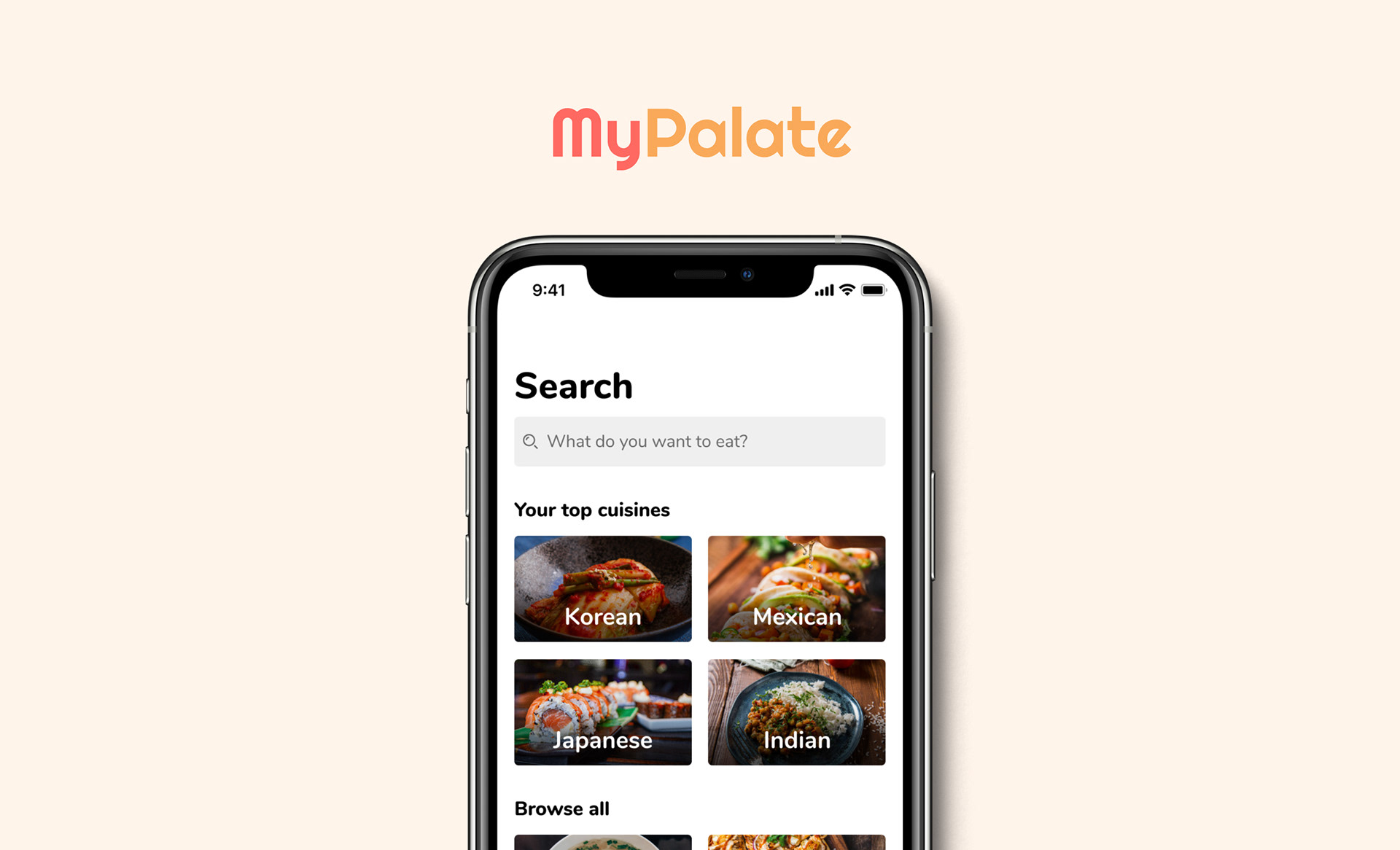 Timeline
  June 2020 - ongoing (4 months)
Tools
  Figma, OptimalWorkshop 
Role
  Product Designer
Team
Tancred Yip (CEO), Derek Leung (CBO), LJA Bolongaita (Product Design Lead), Thomas Armena (Development Lead)
First, here's some background
MyPalate is an early stage food tech startup, founded in 2019. Our mission is to help people f
all in love with food again. We're doing this by building a personalized recipe app experience, with greater cultural diversity and accommodation for a wide range of dietary restrictions.  
I joined MyPalate in April 2020 as a part time product design volunteer. From previously working as a supervisor at a buffet, and seeing people I care about have limited food choices due to dietary restrictions, I was really curious about MyPalate. I was excited to help grow a new app that had so much potential to positively impact the way people enjoy food. 
Because we're a small team, I get a lot of freedom to explore different aspects of our product and practice decision making. I also talk to our management and development teams a lot, and iterate quickly based on feedback! So far, I've worked on a few different projects, ranging from market & user research, wireframing & prototyping, user testing, mobile & web design, design systems, and learning about product management and cross-platform mobile app development.
Let's talk about search
I was the sole designer, and lead research & testing to design the experience of finding recipes on MyPalate's mobile app, encompassing browsing, filtering, the appearance of search results, recipe categorization, and requesting non-existent recipes. I frequently communicated with Tancred, Derek, LJA, and Thomas, and presented to our design team; to ensure designs were aligned with product goals, and get a better understanding of technical feasibility.

I will update this page soon with more details on my process, but here is an overview for now, on how I decided to tackle this project: 
1. Analysis of the current experience on mobile.
The current experience of searching was developed during a month-long sprint to develop an MVP of the entire MyPalate app, so it was limited in functionality, and had not been tested.
2. Researching mobile search flows.
I looked into common UI patterns on mobile to see what the current design could improve on.
3. Defining what I needed to design. Several rounds of creating lo-fi wireframe variations, getting feedback, and iterating.
4. Usability testing with 6 people.
5. Gathering insights and summarizing into actionables. Uncovering problems that extended beyond search.
While there were minor usability issues with the flows I had tested, I realized that core aspects spanning multiple areas of our app were built on assumptions from the MVP phase. They caused confusion, or weren't providing value to users, and needed immediate attention.
6. Putting search on pause, to focus on the bigger issue - categorization.
Categorization not only affected search, but the whole app - from onboarding, to user profiles, recipe creation, and more.
7. In-depth competitive analysis of the categorization system of 10 different recipe apps.
Honestly, this was a lot of work. And a lot of Google sheets.
8. Card sorting and survey with 15 people.
I did this to determine most valuable filters, test terminology, and map mental models surrounding tags that seemed to commonly overlap.
9. Analysis of user research findings to develop categorization system.
10. Back to updating search... (ongoing)