While I was a UX design student at BrainStation, I worked on a capstone project to learn more about the design process, from research to proof of concept. My mobile app design, Continual, helps consumers make more eco-friendly shopping decisions through an informative, community-centred platform for sustainable fashion.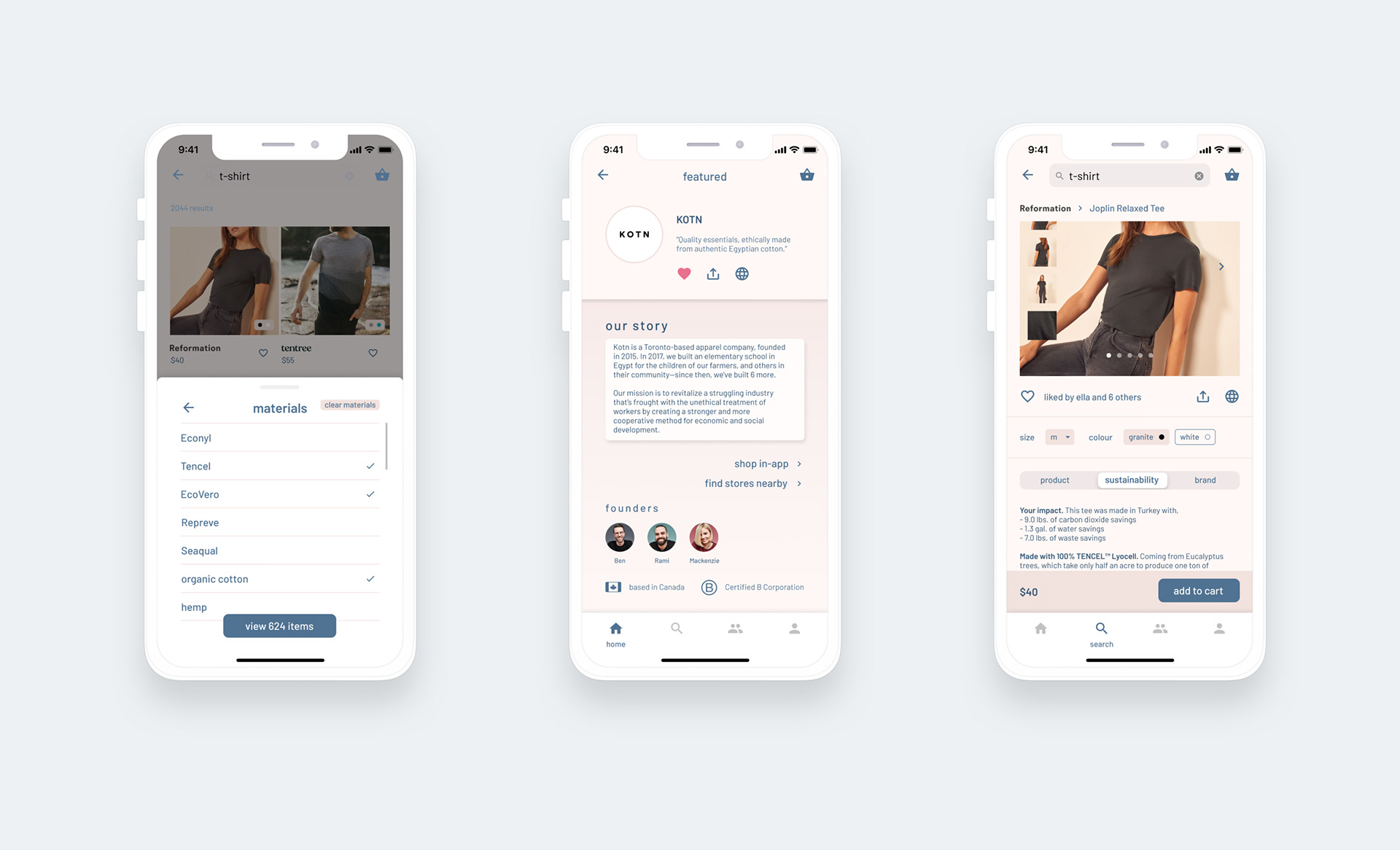 Timeline
 / Jan - Mar 2020
Tools
​​​​​​​ / Figma, Illustrator, Whimsical
Process
Being new to UX design, I used the double diamond framework to guide my decisions throughout the process of designing Continual.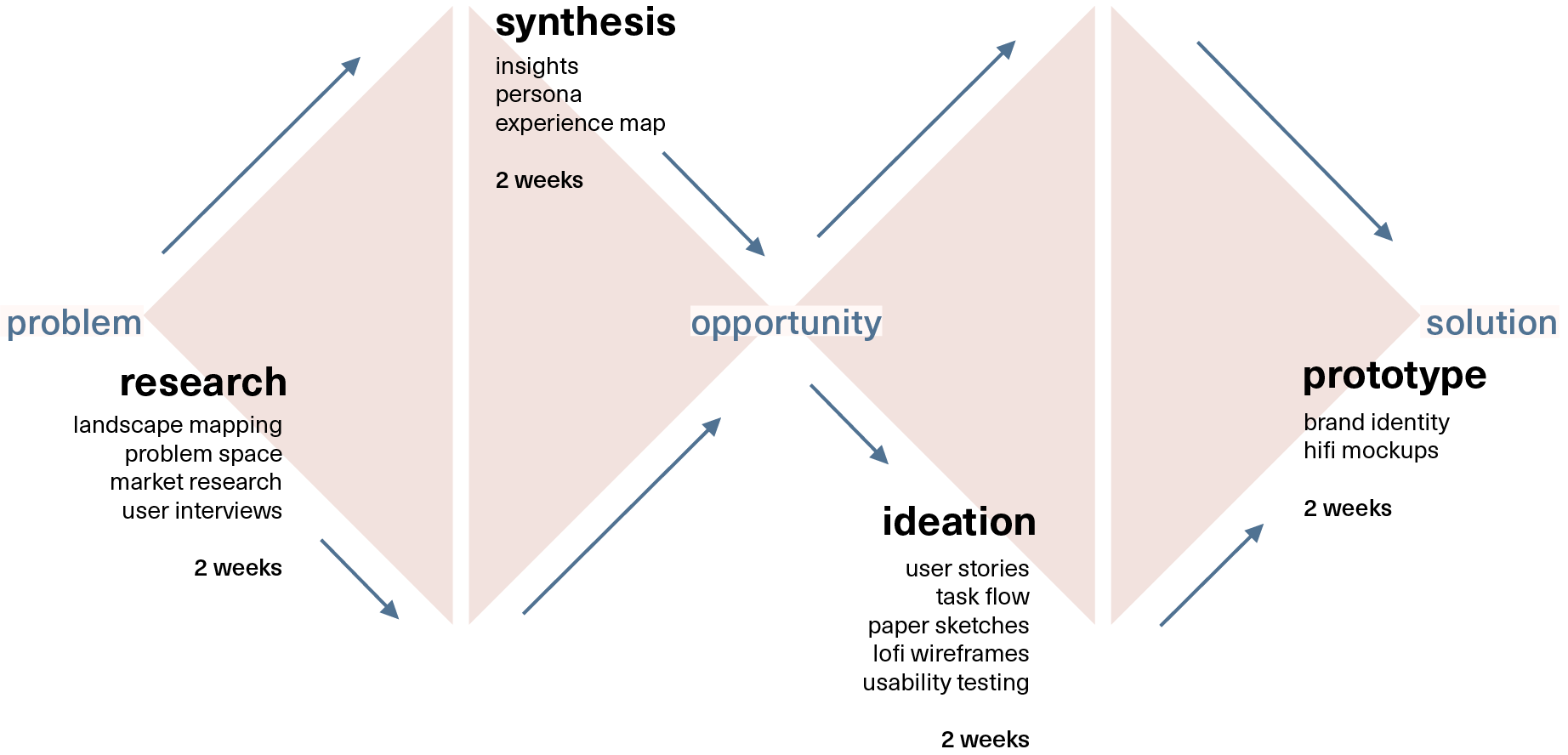 Background
When I first started this project, I knew I wanted to tackle an issue in the fashion industry, but I didn't know where to start. I mapped signals and trends to get a better picture of the landscape, pick up on patterns or significant movements, and think about where things could go in the future.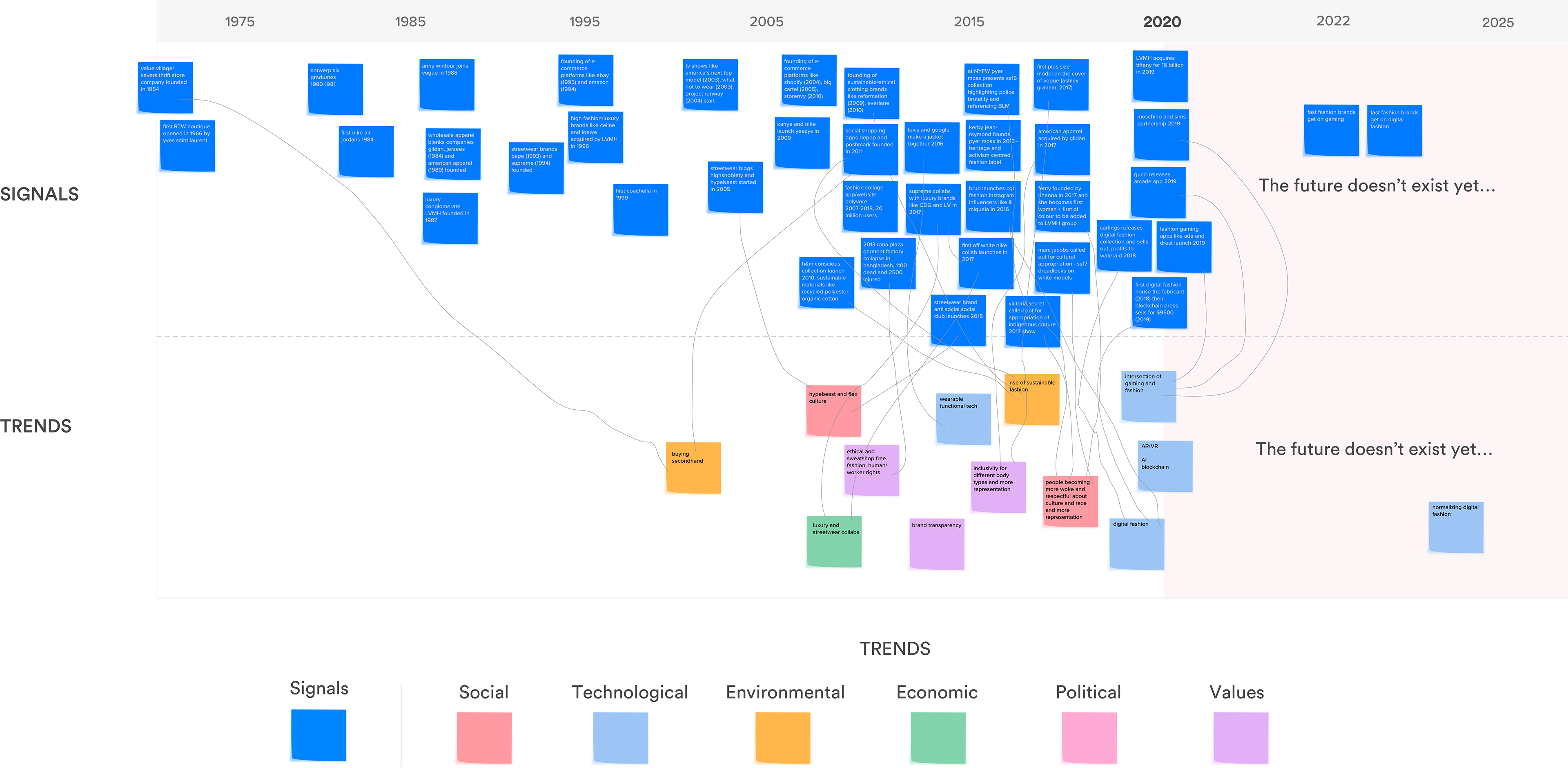 Among the landscape of the fashion industry, the environmental impact of clothing stood out to me the most. 
I researched tex
tile waste, resource consumption, and the demand for new products to understand the problem space and its severity.

Problem Space
I soon discovered there were several facets to the problem, with many areas of opportunity. I considered tackling waste management or brand transparency, but looking further into the topics, I learned about the positive changes that were already being implemented towards optimizing textile waste on a large scale. I also realized that it's very difficult to aggregate sourcing information on a range of clothing brands, namely because companies who aren't super eco-friendly typically don't tell the public much about their production practices. 
Noting the growing demand for products, I saw there was a large base of consumers continually wanting to shop. So, I decided to ask:
"How might we help young apparel consumers make more environmentally friendly purchasing decisions?"
Research
I looked into existing products to learn about how others were facilitating conscious shopping. Some solutions extend the lives of garments – social resale apps built communities for consumers to sell clothes directly to each other. Online secondhand shops made thrift and vintage shopping more accessible. Digital fashion took another approach by creating and promoting clothing without the need for physical production. 

I then interviewed 7 apparel consumers between the ages of 17-28. My first goal was to validate my assumption that people actually had the desire to shop more sustainably. Here's what I found out about them: 

From there, I wanted to uncover the factors influencing their purchase decisions and frustrations relating to their shopping experience. I was also curious about if they were using any of the products I explored during market research.
Synthesis
As I was organizing the data I had gathered about my users, I started to notice common themes among them.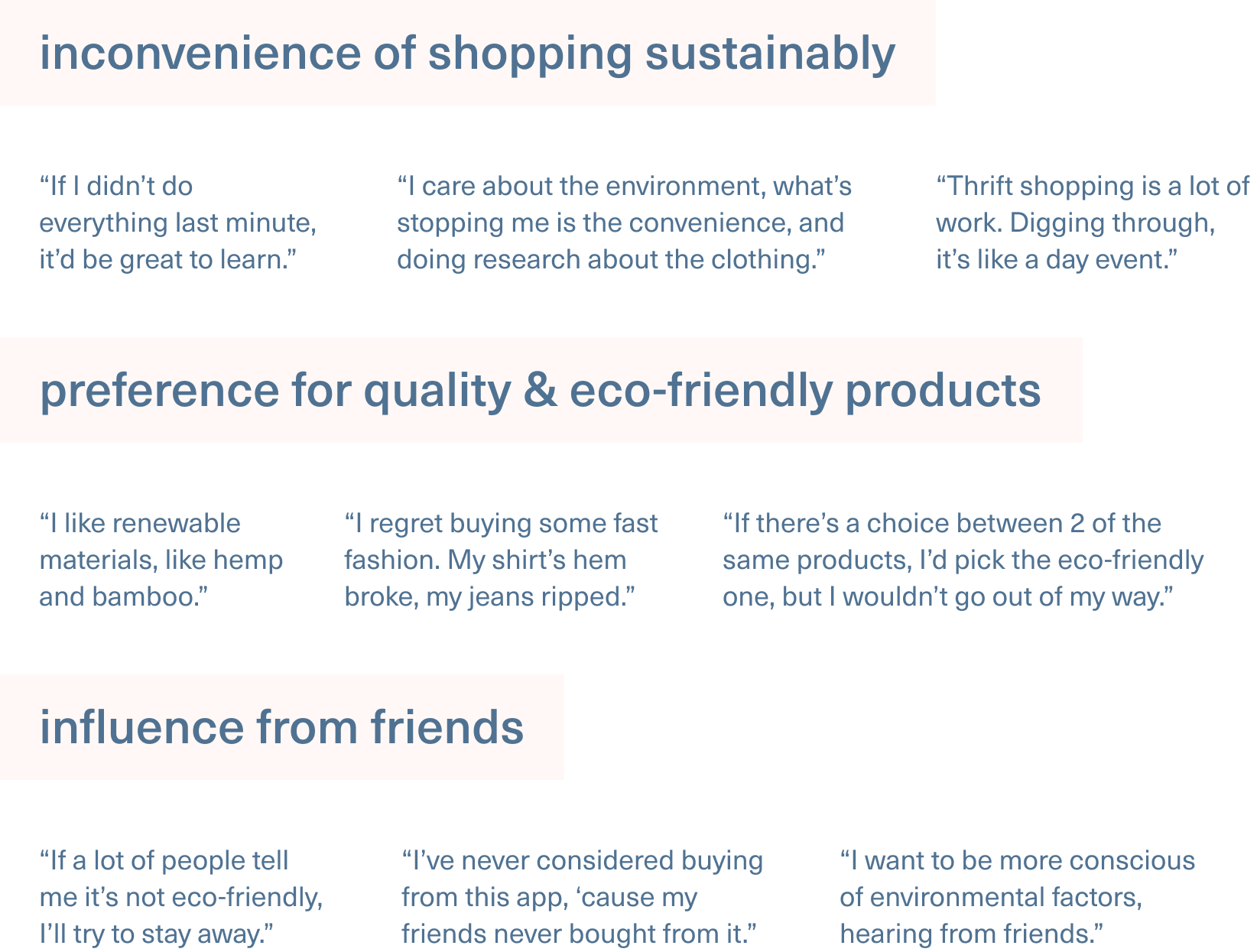 Based on research insights, I developed a persona emulating my primary user group, to better empathize with them and understand their needs.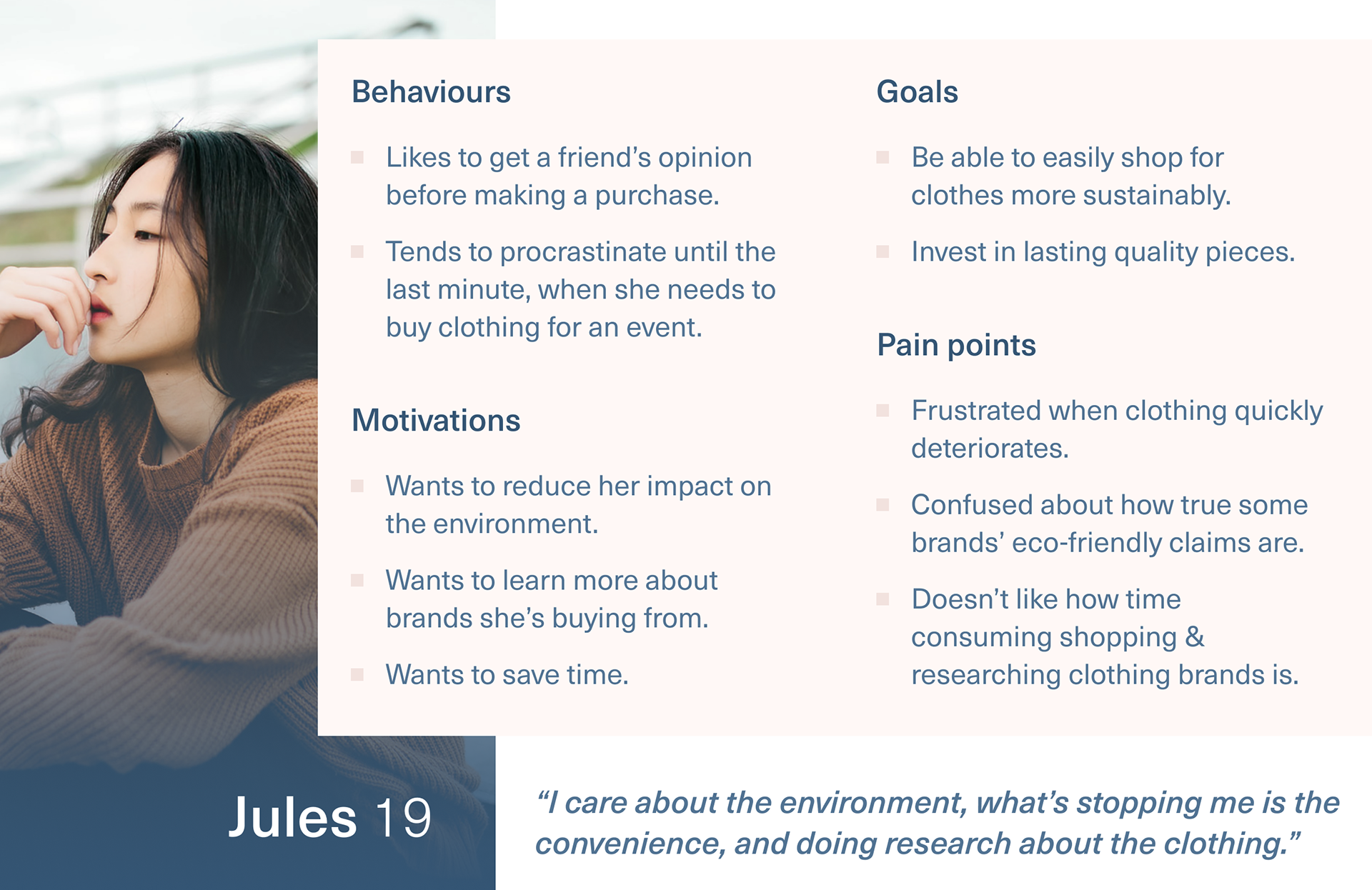 I mapped Jules' journey of browsing & looking for a t-shirt to identify opportunities within my users' experience for design intervention.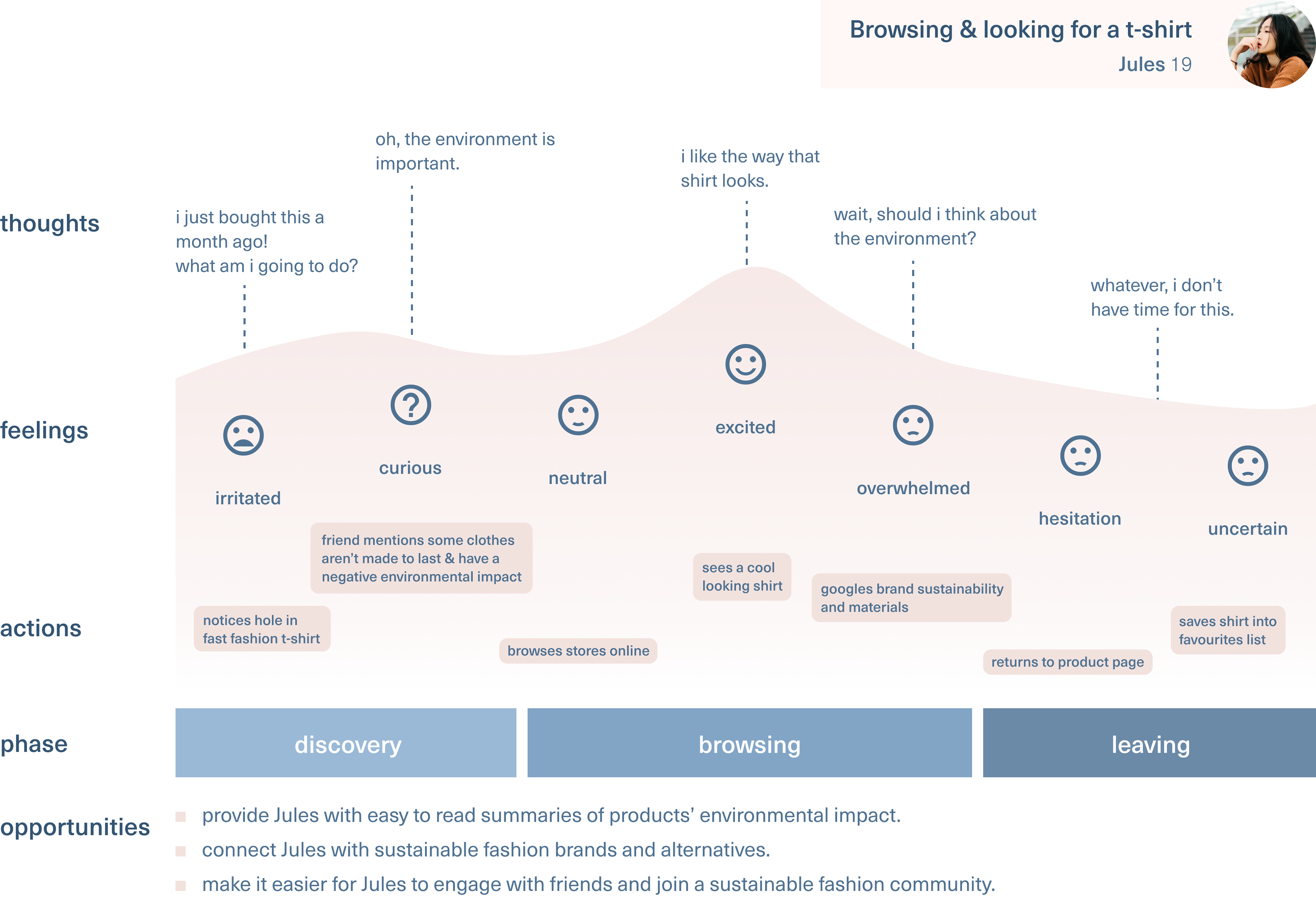 Ideation
A deeper look into Jules and her experience showed me the opportunities to help her painlessly learn more about potential purchasing options & their environmental impact. I developed a set of user stories helping meet her needs, to be translated into product features.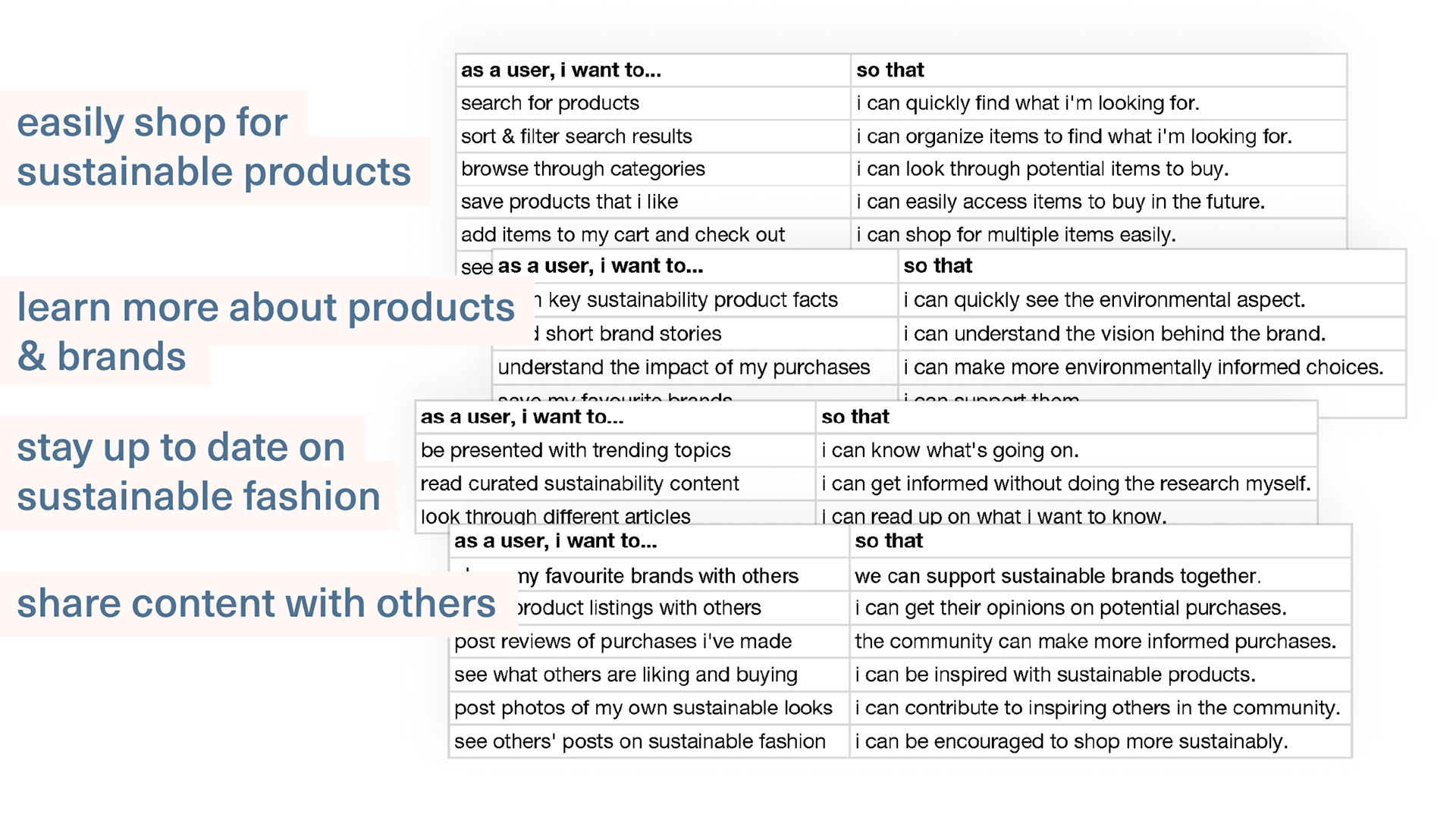 With a working idea of my project's key features, I began to visualize what my solution would look like. I went with an iOS mobile app because the majority of my interviewees owned an iPhone. Since they value time, and are often on the go, a mobile app's ease of access was ideal. Furthermore, the current market share of
mobile e-commerce
sales takes up 67.2% of total e-commerce sales, and is predicted to reach 72.9% by 2021.
Next, I looked at similar products, like sustainable fashion marketplaces and brand eco-rating apps, to get inspiration and discover areas I could offer improvements. While I found features such as easy browsing through eco-friendly fabrics and comprehensive brand impact summaries useful, I noticed there was room to improve when it came to the overall user experience. Some apps were difficult to navigate, and it was nearly impossible to find products from local Canadian stores. 

From there, I started the user's journey on my app, which turned into the main task flow to be designed. Variations on how it could look were sketched out, then digitally put together.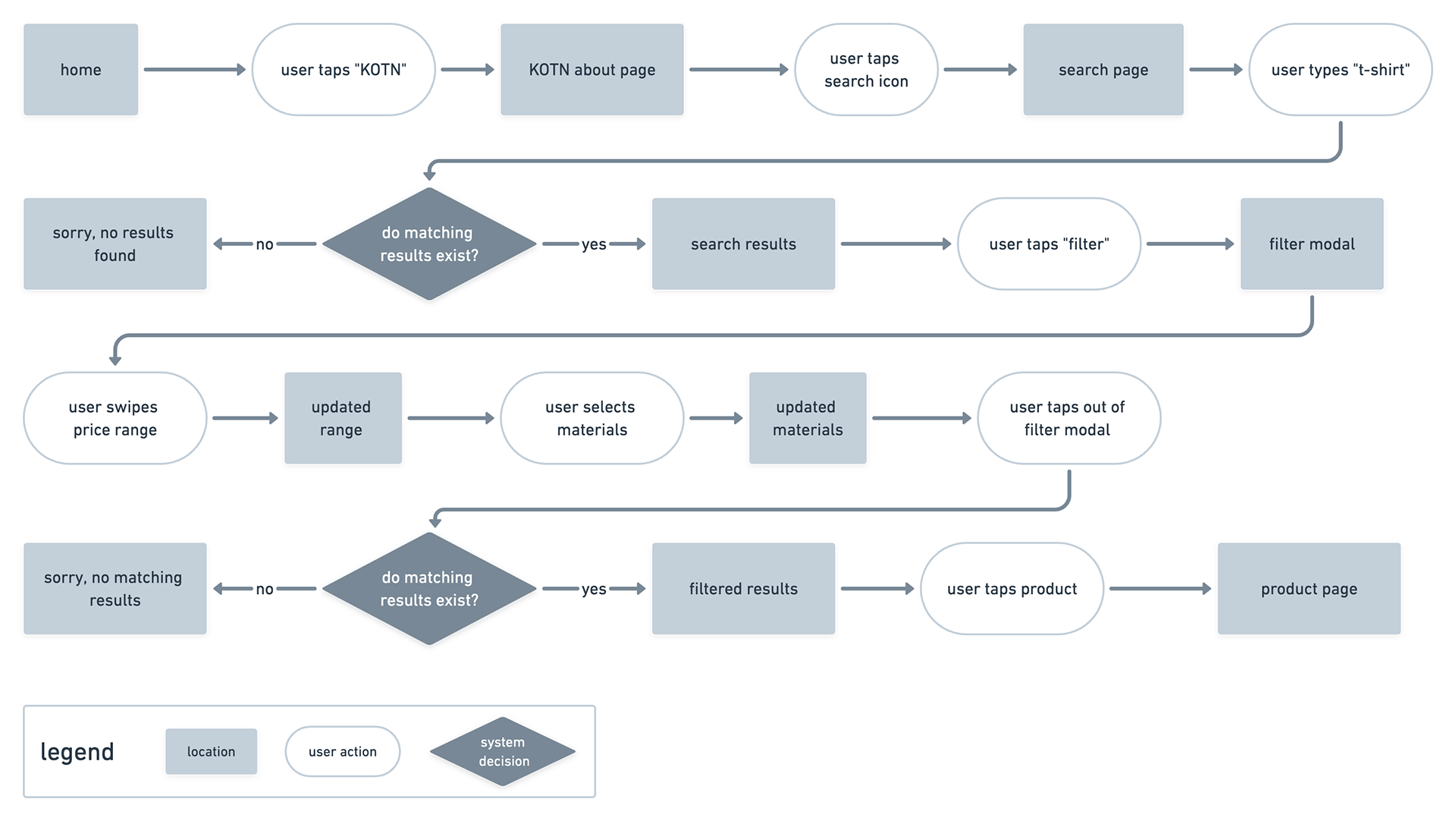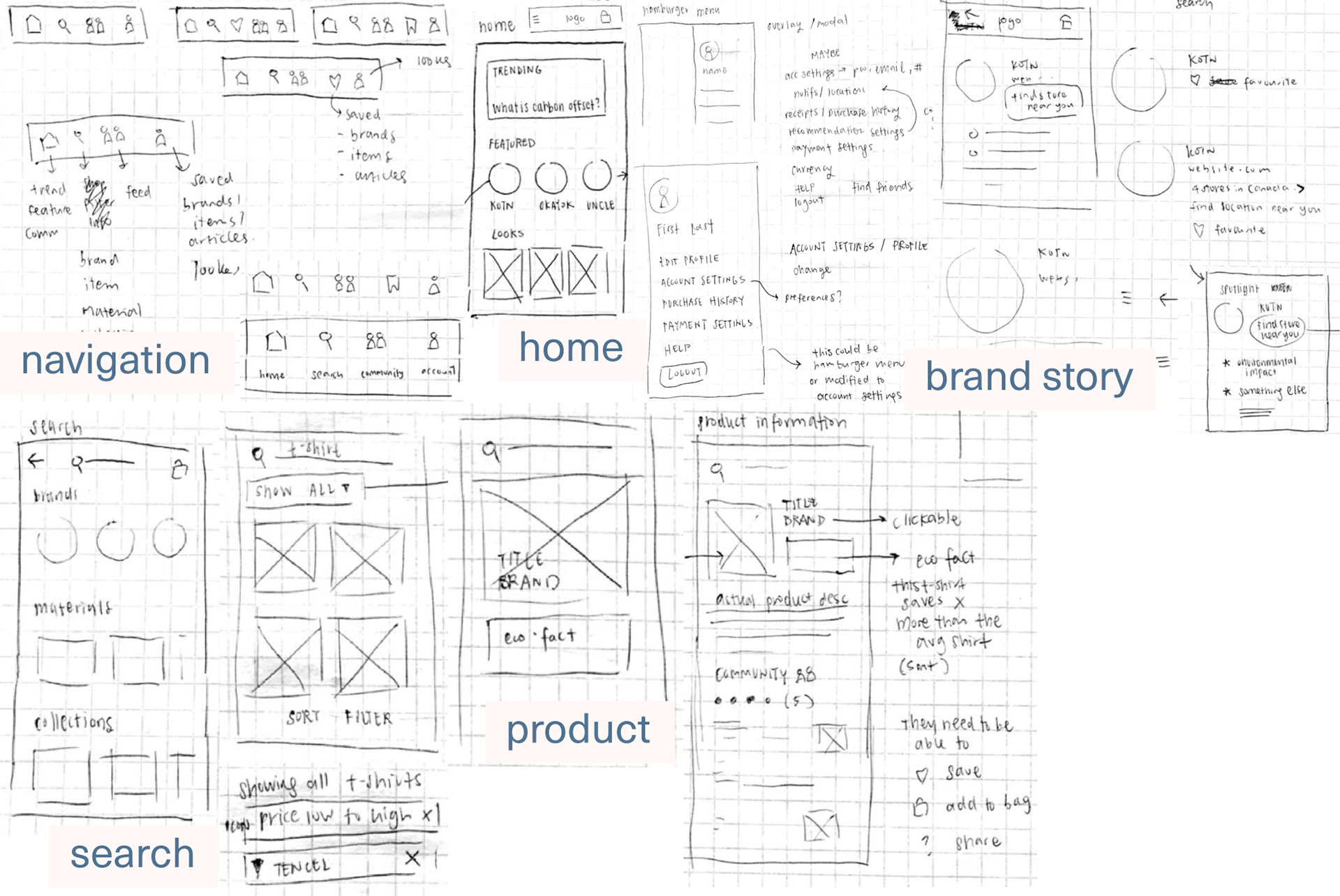 With these wireframes, I conducted 2 rounds of testing with 5 participants per round. I split the flow into 2 tasks: learning more about a brand and finding a t-shirt that matched their desired qualities in a piece of clothing. As users went through these tasks, I observed them, and afterwards asked them about their expectations surrounding the app's design and features.
From their feedback, I discovered areas regarding usability and desirability to find design solutions for. Here were a few key insights: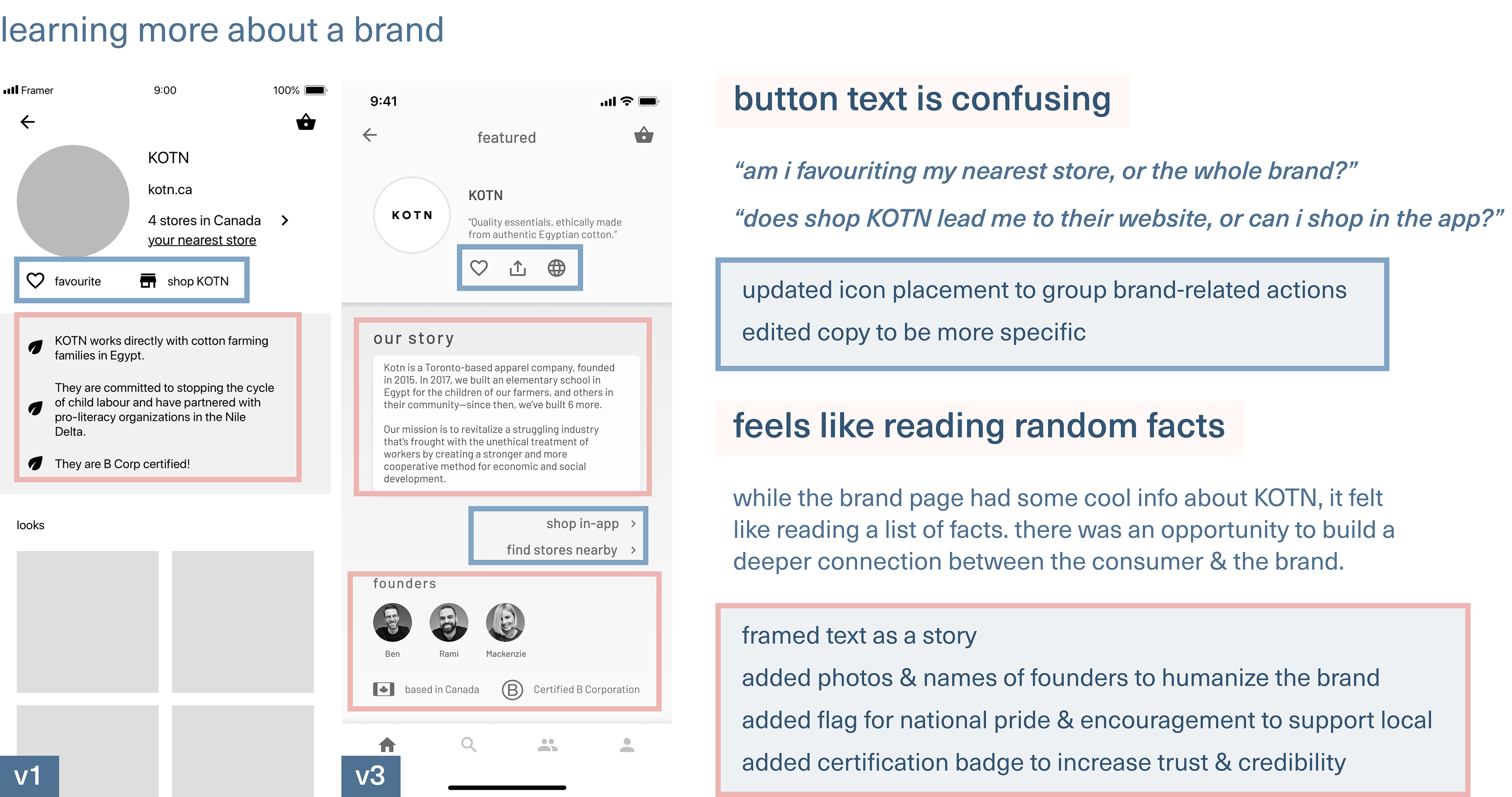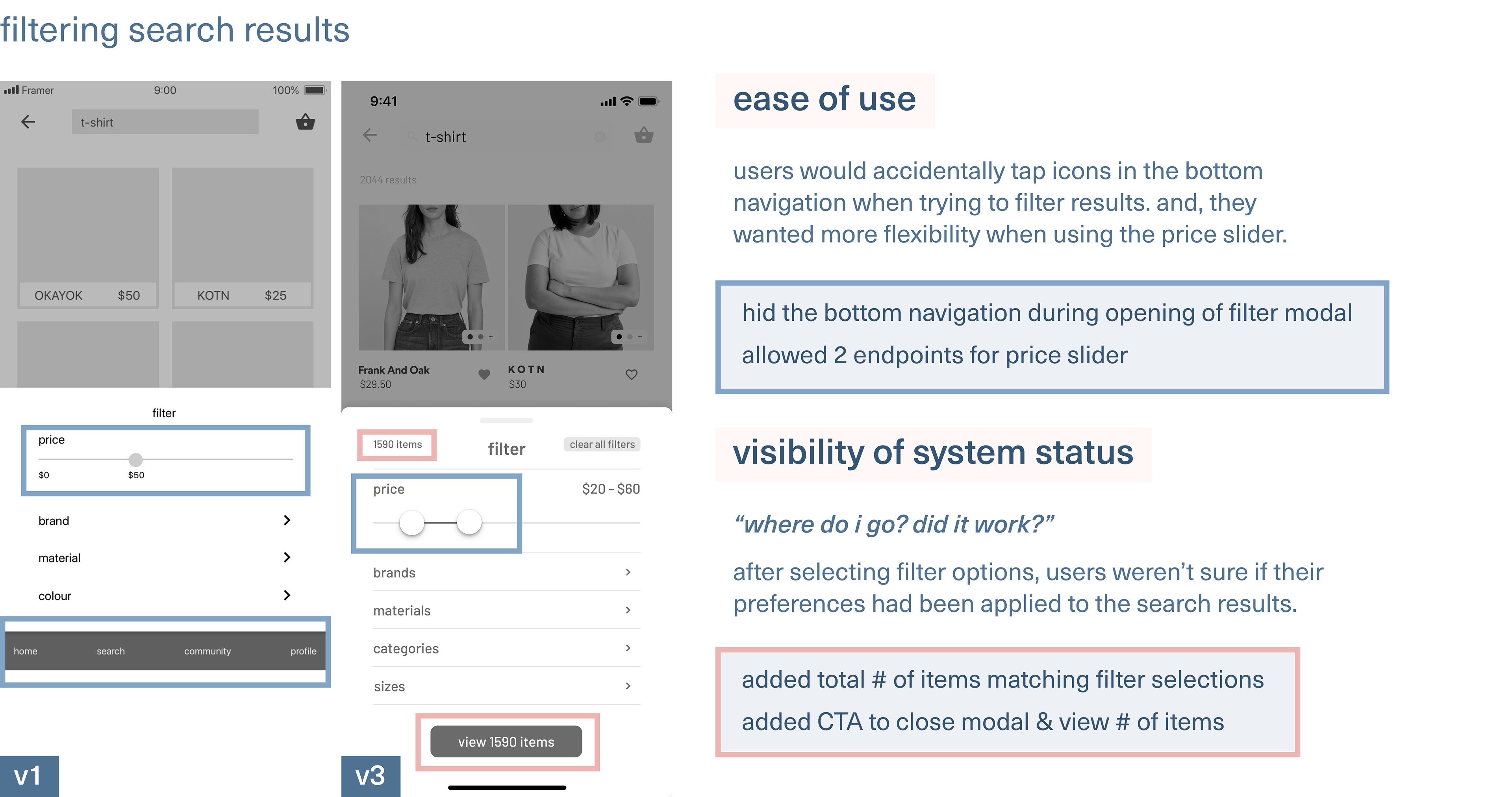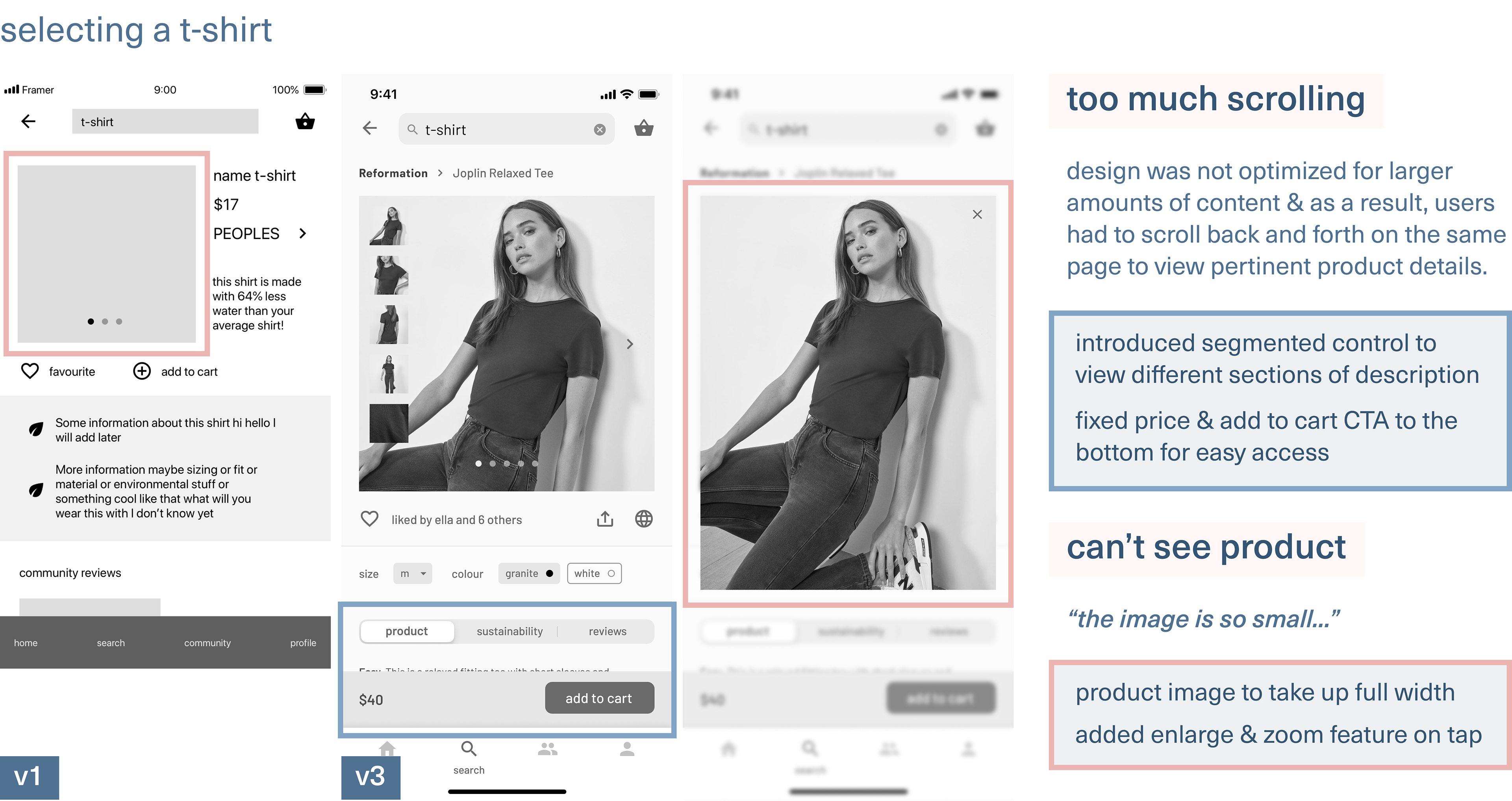 Prototype
With mid fidelity wireframes ready to go, I started to develop my brand's visual identity by putting a moodboard together, from which feelings and colours were extracted. The name "continual" along with an infinity logo was chosen because the objective of my app is to help close the textile loop and cultivate circular product cycles in the fashion industry.

Once brand identity was ready, I applied it to my wireframes, then stitched the screens together in a prototype.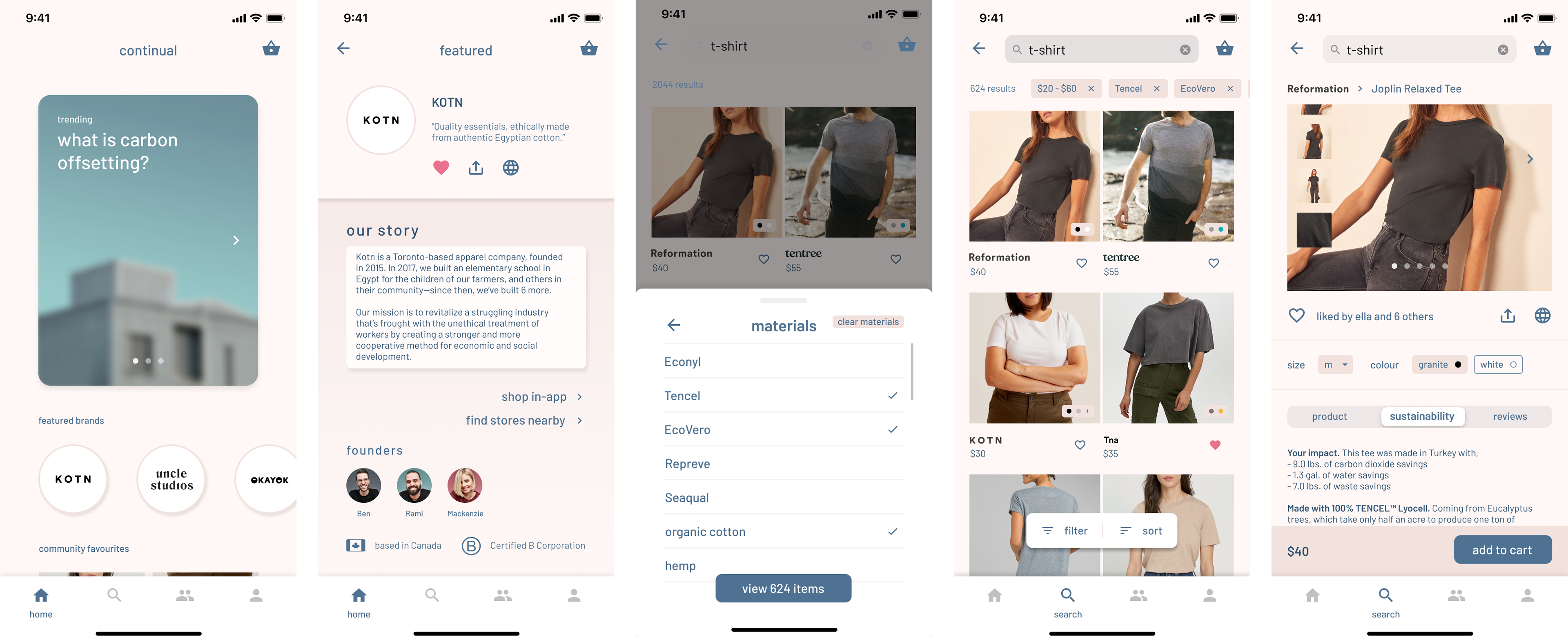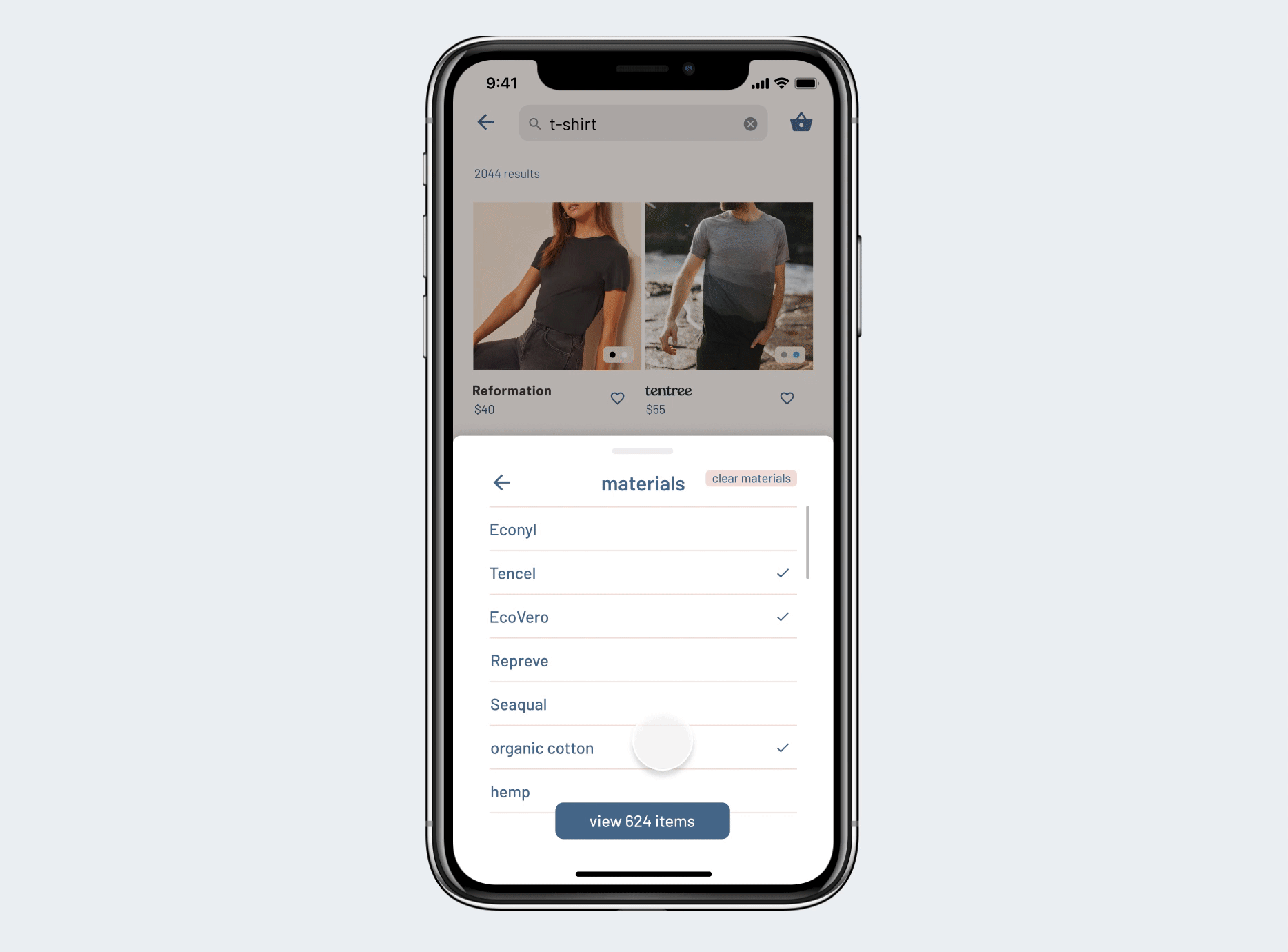 Marketing
Next, I designed a responsive product marketing website to highlight key features and fictional brand partners. Users would be able to sign up for an account, as well as download the app, from visiting the website.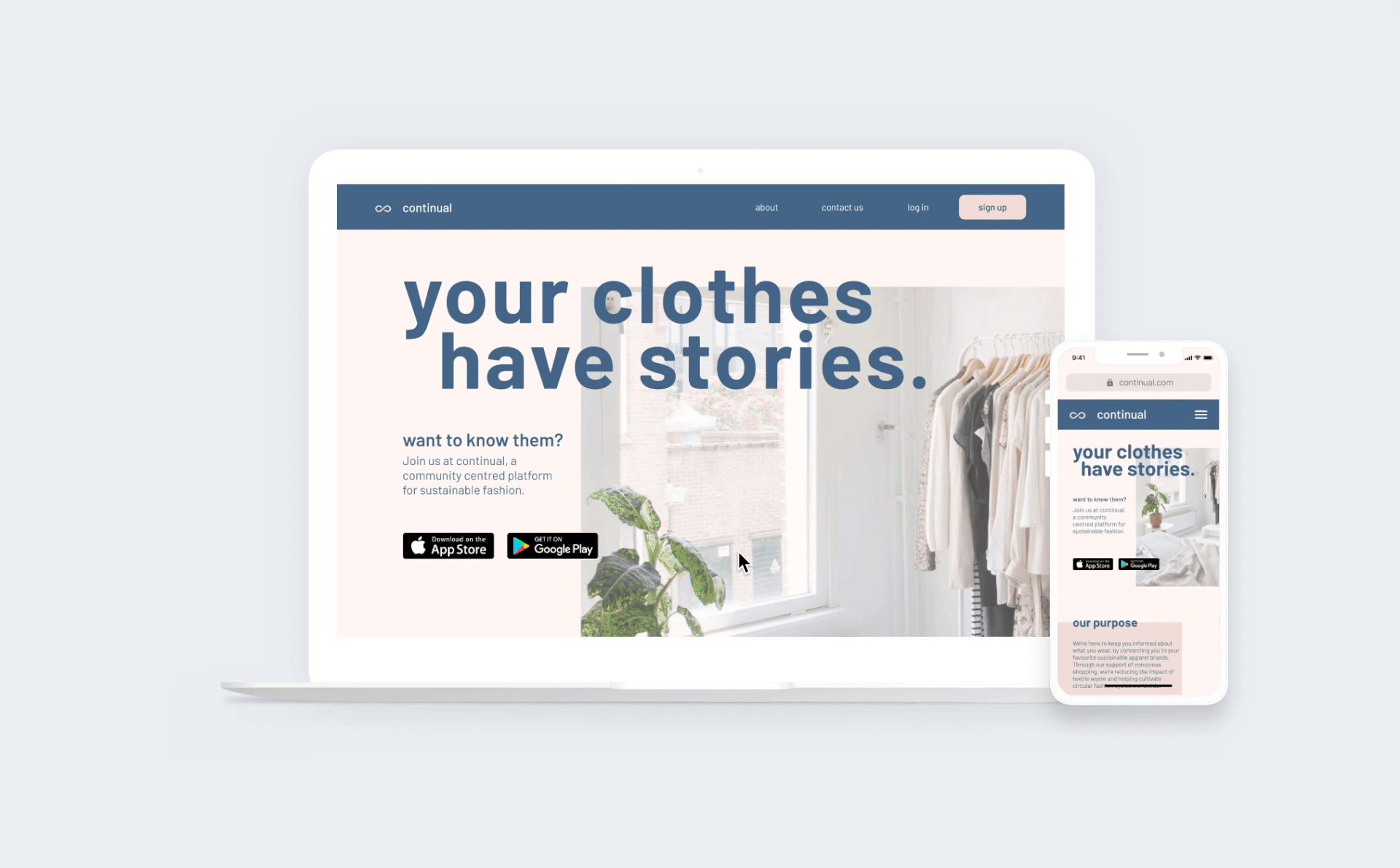 Other Platform Exploration
Seeing as desktop is still a top channel for e-commerce, and more commonly used for high volume purchases, I decided to explore the idea of a Chrome extension called "continual check" that analyzes the content of a website a user is browsing. It presents to them an environmental impact summary of the product they are looking at. In the future, I would consider adding more visuals or icons to improve readability. For brands that aren't transparent about their production practices, it might be interesting to add a function allowing users to send them a message of encouragement.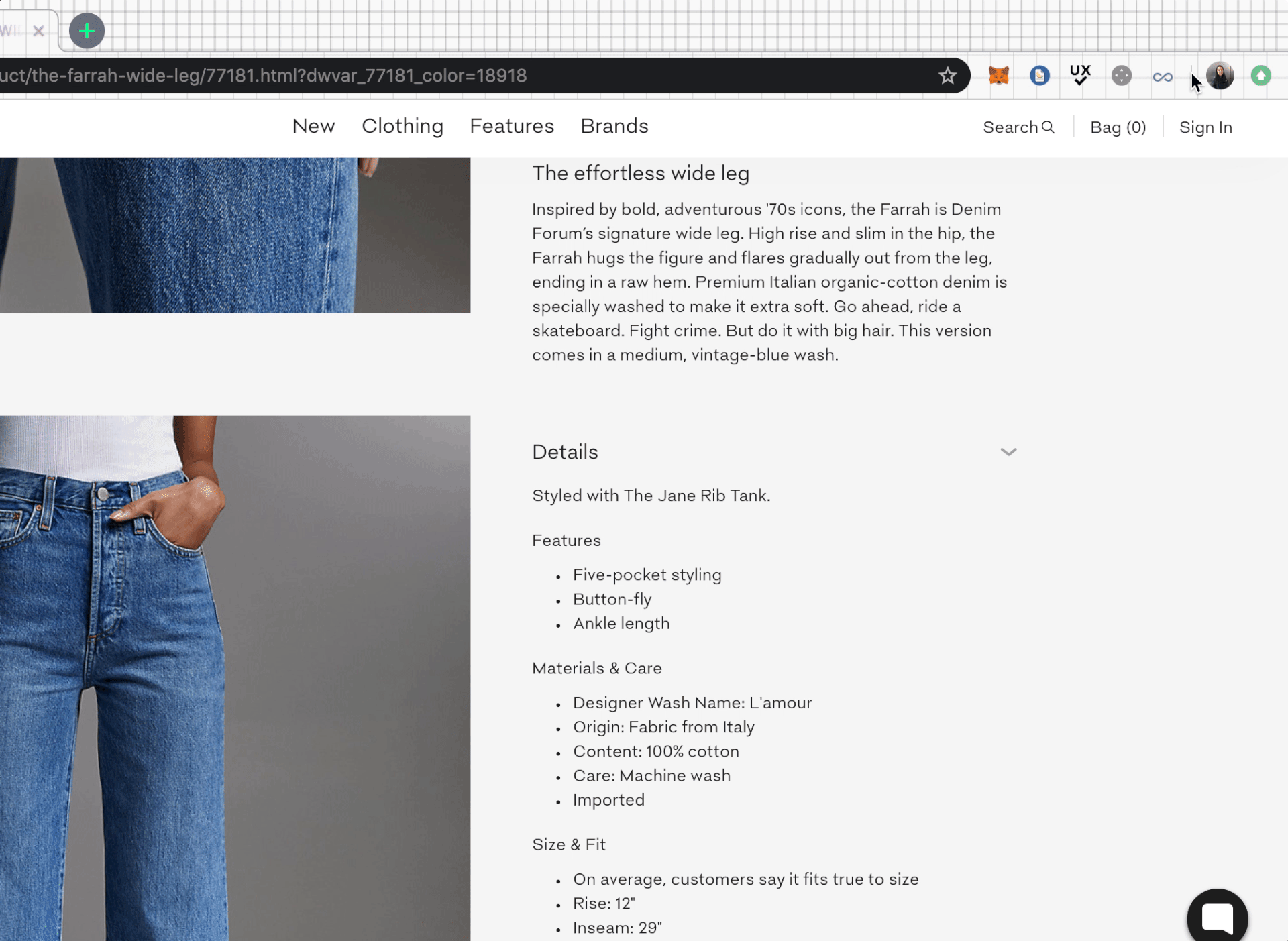 Design Impact
As time came to wrap things up, I reflected on Continual and how I got here. Looking at my problem statement –
how might we help young apparel consumers make more environmentally friendly purchasing decisions?
I'd say Continual does this, by connecting people to local & sustainable clothing brands, presenting relevant information about the impact of their purchases, and getting people involved with what's going on in sustainable fashion.
However, Continual could potentially carry the unintended effect of encouraging consumers to buy more products in general. While it still offers a better alternative to fast fashion, a future consideration would be additionally helping consumers extend the lives of their clothes.
Challenges
I learned a lot from the challenges I faced while designing Continual! In the beginning, it was super tough for me to narrow in on a specific problem. With sustainability in the fashion industry, I felt overwhelmed with all the different routes I could have gone. Do I target consumers or organizations? Do I focus on clothing donations, digital fashion, supply chain transparency, secondhand shopping, or somethin
g else entirely? I eventually had to tell myself –
 you can't solve all

the pr

oblems.
Define your constraints with yourself realistica

lly.

Listen to what your users are saying to you, and go from there.
Another issue I had was determining if people were being honest with me during interv
iews.

If you straight up ask someone "Do you want to be more eco-friendly?" they will probably say yes.

 And it's not like I had a lie detector
. So what I did was, I started off with general questions related to their shopping behaviours, then asked about factors that influenced their purchasing decisions, casually guiding the conversation to environmental factors and going from there. If I were to do this again, I'd look into getting more feedback on my interview script, or pursuing supplementary ways of collecting data, possibly through anonymous surveys. 
I also made a mistake early on in the process, that affected my UI design decisions later on. When it came to forming Continual's visual identity, I realized that I was going off of my own idea of what the app should look like.
If I were to do future iterations, I'd make sure to
consult with users about apps they use and stores they shop at, to
d

esign a more familiar digital experience.
Acknowledgements
I'm super grateful for this experience working on Continual at BrainStation. It wouldn't have been possible without my capstone advisor, Jonathan Lee, my educators, Ann-Marie Sebastian, Joel Macleod, Jason Kogan, my TAs, Chloe Evoy, Veronica Sipos, Tridz Banerjee, Chris Zakrzewski, and all of my wonderful
classmates
 💗